The Cambridge Art Academy Blog: Sunset from Castle Mound Cambridge, a pochade sketch in oil | View All Blogs | Back
Sunset from Castle Mound Cambridge, a pochade sketch in oil
Posted On: Saturday 4th June 2011
Summary: As the daylight faded I walked to the top of Castle Mound in Cambridge to paint the view in oil using my pochade box, only stopping when the light had gone, at 10pm

Blog Tags: Oil painting Outdoor painting Pochade painting Painting in Cambridge Townscapes Nocturne painting Buildings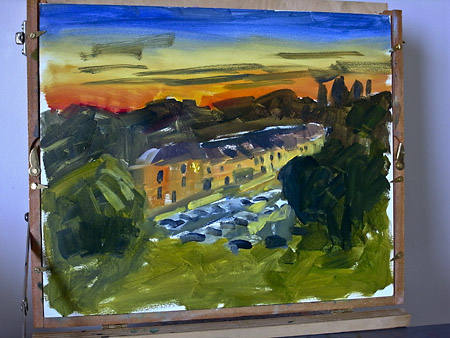 Painted in about 30 minutes in oil from the top of Castle Mound in Cambrige last night. The sun had already set when I arrived and the clocks chimed 10pm as I finished. By then I couldn't see this little pochade sketch painted perched on top of the tripod-easel. It was a case of waiting until I got home to see it in the light.
Castle Mound is the highest point in the city and it brings you on a level with the church and college spires of the city.
The colors were rich and Castle Street in the foreground was lit by the street lamps, echoing the sky.
Blog Archive
View All Blogs