What you need to draw and paint birds
This article and video covers what tools you need to draw and paint birds outdoors, and advice on how to start producing art that catches the look and character of birds around you
Posted: Monday 6th February 2012

Member Content: You Are Viewing A Preview Of This Content. Register Now For Full Free Access
So you want to paint birds? Excellent, let me get you started by sharing a few things I have learned about bird painting, especially if you want to paint birds outdoors. The only trouble with birds is, the little blighters move around all the time. Or fly away. Even the ones floating on a pond drift behind some reeds quicker then you think. So, what to do?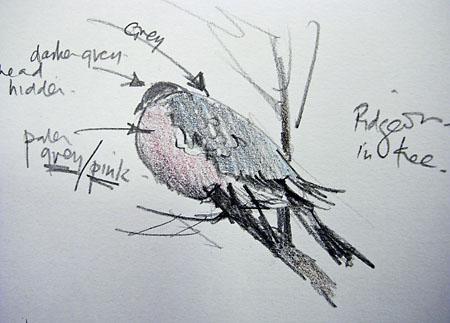 We'll come back to that, but first of all let's begin with the materials you need. Most of this is covered in the accompanying video shot on location and which illustrates the main points - but you will need to be a member to view it. Please join Cambridge Art Academy (here) - membership is completely free, no catches. The video and lots of other "members only" content will be available to you free of charge.
OK, in no particular order here are the headline requirements:
Wear dull- coloured clothes. This, thankfully, does not mean full combat gear. However, see No.2

Despite No.1, birds have much better eyesight than we do. They'll see you coming long before you see them. Just move quietly, then stand still, and they'll come to you.

If you're in the open, stand against a hedge or a wall - anything to make yourself a little bit less intrusive.

Check out on the internet where your local bird reserves are. Of course it doesn't mean that these are the only places to go - it's simply that a bird or wildlife reserve will be managed in a "wildlife-friendly" way and you are more likely to see a good range of birds there.

Get a field guide to birds for the area where you live, and if you aren't very experienced with birds, try and familiarize yourself with the appearances of the main groups of birds. Try practicing at home by copying the illustrations in the book. Not all of them of course, but one each of, say, a gull, bird of prey, goose, wader, finch, thrush, tit, and so on. An example of doing this can be seen on this blog entry. It helps a lot to know the basic shapes and colours and what each one looks like in flight before you get out there and have other consideration to think about.

You'll need some basic drawing equipment in a shoulder bag. At least a pencil and a sketch pad. Spiral bound is excellent because it will open flat. Coloured pencils are by far the most convenient medium for applying colour. But pen (or pencil) and watercolour wash is very simple and rewarding, but please remember not to take too much gear. A small bottle of water, a couple of brushes and a watercolour box with four or five colours will get you a long way.

When you are standing or sitting still, it's easy to get cold. Often the best times of the day to see birds are early morning and late in the afternoon when it can be cold even in summer. And if you are sketching birds on the top of cliffs or on the edge of a lake, the wind can be cold. So wrap up well and take hot drinks and food with you.

If you can, go for sketching a bird that isn't moving much - generally birds on the water move slowly. Nearly as good would be a group of birds standing together - like lapwings for example - so that when the one you are drawing moves, there is probably another one close by that you can carry on using as your subject.

To start with, concentrate on sketching bigger birds if you can, simply because the details is easier to distinguish compared with many small birds.

Attracting birds into your garden with a hanging feeder is a brilliant way of painting birds from the warmth of your own home. And you don't have to put the feeder a long way from your house either, because the reflections off the window glass will mask your outline and movements to birds outside the window.

Take some seeds or bread with you and "bait" an area of open ground where you can view from a convenient half-hidden location not far away. Then move to another area - on your way back, who knows what you will find feeding on what you put down earlier.

Binoculars. Take a pair. Any are better than none, but if you are thinking of buying a pair, maybe the following points will be helpful:
8x magnification is about as much as you can hold steady without a tripod. Good optics with high definition is as important as high magnification.

When did you last have your eyes tested if you are a spectacles wearer? There's no point in having great bins if your spectacles are not as good as they should be.

The front glass should (debatably) be 42 mm across. More than that and weight and bulk becomes an issue when you are outdoors. A large-ish front element brightens the image, but also makes it a bit easier for you to centre your eyes on the image in the pupil lens - this is something to consider when, as an artist, you are looking into, and away from, the binoculars in quick succession.

Get binoculars that have a wide field of view - they do vary a lot.

Check they have a built-in thread for attaching to a tripod bracket - see the video for what I mean.
Something else to really take on board is to be patient with yourself. Bird sketching is not easy - OK one woodpigeon looks much like another, but they won't stay still for you. Very inconsiderate really. For the first half an hour or so you will be rubbish, but just stay with it and sketch just a beak or a general shape, or some tail feathers, and the elements will start to come together. And when you are tired of focusing on birds, "zoom out " and sketch the general scene, placing some birds as smudges or dots on the water or above some trees. Then come back to drawing individual birds.
There's a lot to say on this subject but hopefully this will set you off in the right direction.
Do check in as a member of Cambridge Art Academy, and the video will appear below this article.

more of this content available online now!

To read the full item and access all our valuable FREE content, please Sign Up As A Free Member. Its quick, easy and it really is all FREE. No credit card or payment needed!
Already a Member? Login As A Member and get instant access to this content now.
Other Articles From Cambridge Art Academy
What you need to draw and paint birds
Why you should follow Turner's example and distort the scene you paint - a view of Florence
How to make the best of a day out painting and sketching by the river
How to paint a snow scene Christmas card in watercolour
Painting commissions - the pain and the pleasure
How to analyse an outdoor scene and choose a good angle to paint from
Painting outdoors in changing weather conditions
Nine ways to overcome artist's block
Advice on running an Open Studio
How to make mega-economical boards for oils, acrylics and pastels
Noel's personal journey of discovering the world of painting