The Cambridge Art Academy Blog: Preparing panels for oil paint | View All Blogs | Back
Preparing panels for oil paint
Posted On: Saturday 14th May 2011
Summary: How to prepare panels for oil painting

Blog Tags: Oil painting Art equipment Art techniques Cambridge Art Academy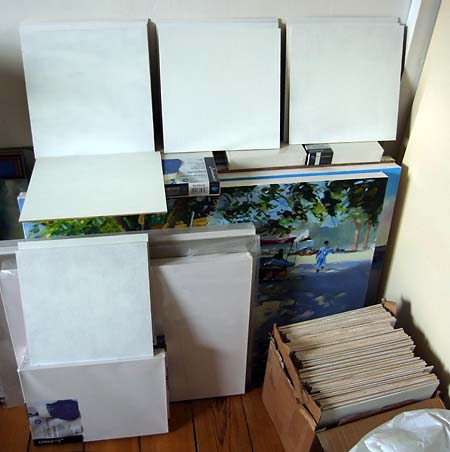 Yesterday I finished preparing 100 panels for oil painting. About 30 are 10"x12" on thin MDF board to fit in my pochade box. Most are 12"x12" thin plywood sheets. Mostly I'll use these for practising and doing small studies in oil paints. Some of them I will cut in half.
I prepared them with two coats of acrylic gesso and I find this is quite enough. The first coat is thinned with water very slightly to help it flow on a slightly absorbant surface. Second coat is neat from the tin.
The result is a slightly rough surface which works well for oil pastels, pastels and acrylics too.
I'm glad that's all over! This will keep me going in small boards for a year.
Blog Archive
View All Blogs