The Cambridge Art Academy Blog: Aldeburgh beach in pastels | View All Blogs | Back
Aldeburgh beach in pastels
Posted On: Saturday 6th September 2014
Summary: An late afternoon pastels painting on Aldeburgh beadh, Suffolk, UK. Painted plein air

Blog Tags: Boats Outdoor painting Plein air Pastels painting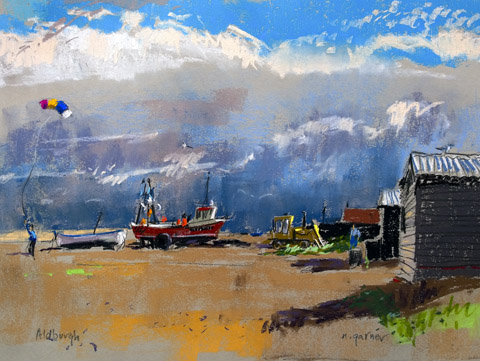 This pastel is 45 x 30cm done mostly on location on Aldeburgh beach late in the afternoon. The sun was bright but getting low in the sky so it clearly picked out just a few of the vertical surfaces.
In a scene like this things are changing all the time. The boy flying the kite came and went, the chap on the right just passed in this position fleetingly, as with the gull on the shed roof. Most changeable however was the sky. When I started it was quite benign, but towards the latter end of the session, it took on the appearance you see here. Suddenly the emphasis of the painting changed skywards. I fixed what I had already done in the sky (not a lot as it happened) with spray, and then launched in freshly and quickly.
When I got home I used my reference photo to get some more detail on the boats and kite, and that was about it.
Blog Archive
View All Blogs