The Cambridge Art Academy Blog: Pastel and ink sketch in the city centre of Bordeaux, France | View All Blogs | Back
Pastel and ink sketch in the city centre of Bordeaux, France
Posted On: Wednesday 20th August 2014
Summary: A small sketch in ink and pastels completed plein air in the centre of Bordeaux

Blog Tags: Sketching Plein air Pastels painting Townscapes People Buildings Painting in France People in paintings Street scene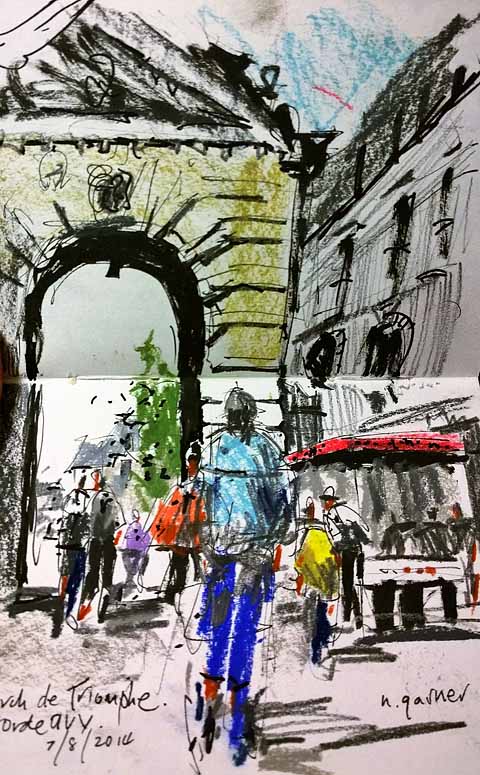 From the Tour de France to France itself. This is in the centre of Bordeaux a few weeks later. I sat on a step next to a shop to sketch the local Arch de Triomphe in fine pen, brushpen and hard pastels. The streets were filled with expensive clothes shops, and the locals looke pretty fashionably dressed themselves, parading along the pedestrianised streets. As I walked back I found myself humming the tune of a Franciose Hardy song popular in my teens (weren't we all in love with Francoise Hardy back then?) In fact the first single I ever bought:
Tous les garçons et les filles de mon âge
se promènent dans la rue deux par deux
Except that I thought the lyrics said "se promenent dans la rue
de Bordeaux
"!
I think think my version is better!!
Blog Archive
View All Blogs