The Cambridge Art Academy Blog: And the band plays on - a sketch in the beer tent at East Mersea | View All Blogs | Back
And the band plays on - a sketch in the beer tent at East Mersea
Posted On: Saturday 31st May 2014
Summary: I sketched this in ink and brush pen while the band was playing

Blog Tags: Sketching People in paintings Pen and ink How to sketch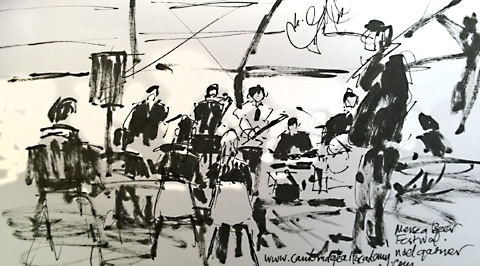 On one of the days we stayed on Mersea Island it was wet and cold (Easter 2014) so a big tent, a beer festival, a live band, a big friendly crowd and even friendlier dogs, was just what was needed.
I sketched this quickly in pen and ink while the band was playing their last number. When they finished I went over and asked them if they would like my sketch for free. "Yes" they said. And I replied "You can have it if you play us another number". Which they did. Mind you, I don't think they needed a lot of persuading. My small contribution to world peace on Mersea Island.
You can sketch anywhere, any time.
Tomorrow I'm off with my boys, on our bikes, to the Isle of Man TT races. So expect a few sketches of motorbikes shortly. Now where could I pack an easel onto the bike? Hmmm....
Blog Archive
View All Blogs