The Cambridge Art Academy Blog: St Mary's Buildings, Bath painted plein air in pastels | View All Blogs | Back
St Mary's Buildings, Bath painted plein air in pastels
Posted On: Saturday 28th December 2013
Summary: A reprise of a painting I last did here 25 years ago at St Mary's Buildings, Bath, UK, only this time plein air in pastels

Blog Tags: Plein air Pastels painting Townscapes Buildings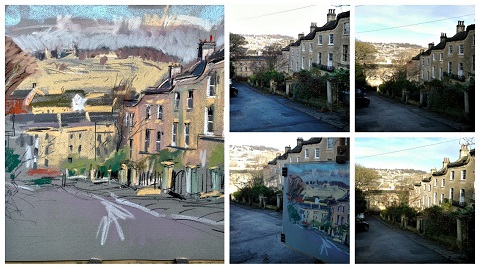 Twenty five years ago I painted in watercolours from this exact spot. Visiting the area to stay with family, this seemed like a good moment to reprise the experience - only this time in pastels which is what I mostly use at present.
I'll finish the painting in the next day or two and post it, but in the meantime I will show you how far I got in about and hour, together with several reference photos I shot and which show just how much the lighting conditions were changing. It posed a few problems for me about how to paint the distance which was in sunlight, and the foreground buildings, which were the main subject, but which were predominantly in shadow.
Speaking of reference photos, since I replaced my old phone with a Lumia 1020, I just don't bother to carry a seperate camera as before. The camera in this phone is exceptionally good.
The "locals" were very kind to me. Being a private road I didn't feel I could dump my car anywhere, so I knocked on a door and was unhesitatingly invited to park in the owner's private parking space, And later on when I met another "local" (who also turned out to be an excellent portraitist, and was invited in to view some paintings of his) I was supplied with a nice hot cup of tea. All this sort of thing make plein air painting almost a social event. I love it!
Blog Archive
View All Blogs