The Cambridge Art Academy Blog: Summer tour painting 18 - Stevington Mill, in pastels | View All Blogs | Back
Summer tour painting 18 - Stevington Mill, in pastels
Posted On: Saturday 19th October 2013
Summary: This is a windmill I painted in watercolour about 25 years ago. The mill at Stevington now has sails on and this time I painted it plein air in pastels

Blog Tags: Landscape painting Outdoor painting Plein air Pastels painting Windmills and mills Buildings Industrial buildings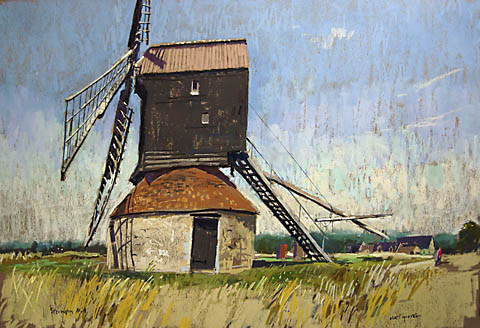 I painted this mill 25 years ago in watercolours, and now on my way back to Cambridge I called in to to see what had changed. The sails have been restored, but not much else. I thought it would be a good idea to see if I could paint it from the same angle as before and if you scroll to the bottom of the page of windmill paintings
here
, you can see my memory served me well on this occasion. I must have been within a few feet of where I stood all those years ago to paint Stevington windmill. But of course this time I was working in pastels. Is it a better painting? I leave you to judge. When I paint windmills I always feel slightly constrained by the fact that I know several millwrights personally - and if any of them sees this painting he will know if I've got any details wrong or out of proportion. In fact, now I think of it, it's quite likely that one of them re-built the sails you see here.
And the shape of windmill sails is fiendishly difficult to get right. Just look at Constable's or Monet's or van Gogh's paintings that include windmills. On this subject they could be a bit slapdash. But Monet, van Gogh, David Cox and J.S Cotman were all very good. Cox the best in my view because he captures the sense of strong wind like no other.
I indulged in a little nostalgia. In my original painting I included my wife and eldest son - he was our only child at the time. Marcus is now 32 and the others have flown the nest as well. So I included my lovely wife as she walked up from the car to see if I was finishing any time soon. (She has a fine sense, developed over the years, of when she thinks my painting session may have - or ought to have - finished.!) The seasons of life and all that!
65 x45cm smooth pastel paper
Blog Archive
View All Blogs