The Cambridge Art Academy Blog: Summer tour painting 16 - George and Dragon, Shutford, in pastels | View All Blogs | Back
Summer tour painting 16 - George and Dragon, Shutford, in pastels
Posted On: Monday 7th October 2013
Summary: Shutford is a small village in the Cotswolds and this painting in pastels was carried out on a sunny summer's afternoon

Blog Tags: Outdoor painting Pastels painting Buildings People in paintings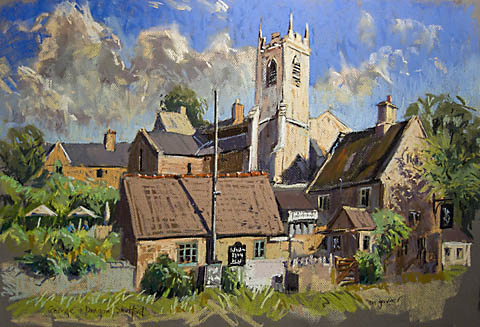 At this point I has crossed back into England, driving though the Cotswolds en route for Bewdley. This scene, done in pastels in Shutford is of the village pub with the church behind. It's both quintessentially English and very Cotwold. But a bit off the beaten track, which I like.
The composition needed nothing changed - another case of painting what was there. The pub was closed when I started to paint, but opened a little aftewards and so I put in a couple of the customers enjoying their beers in the garden.
The story goes that the back of the pub is built against the wall of the church, and one time the wall of the church partially collapsed, decanting some (obviously thirsty) skeletons into the bar.... Anyway, it deserves to be true.
Full-size pastel sheet 70cm x 48cm. Dimpled side. Grey
Blog Archive
View All Blogs