The Cambridge Art Academy Blog: Summer tour painting 11 -Logan harbour, Scotland in pastels | View All Blogs | Back
Summer tour painting 11 -Logan harbour, Scotland in pastels
Posted On: Sunday 15th September 2013
Summary: This is a painting in pastels begun on location at Logan in Scotland and finished in the studio

Blog Tags: Boats Outdoor painting Plein air Pastels painting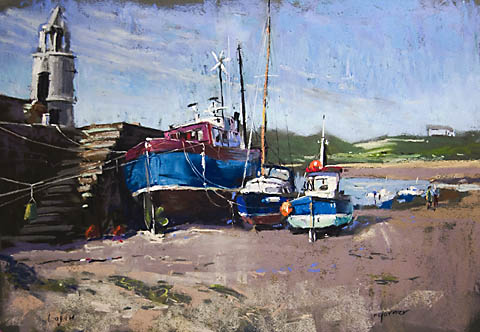 This was my last painting in Scotland before boarding the ferry to Northern Ireland. Having already painted in Logan botanic gardens, it was late-ish in the afternoon, but the summer sun was not low in the sky so the shadows were still quite short. This was a composition that made itself. I walked across the foreshore with my easel and pastels and simply walked around until I reckoned I had a nicely balanced view. Then I painted what was there.
I was there for about an hour and of course didn't get as far as you see in the painting here which I completed in the studio. Boats are hard to get right to be honest. The shapes are subtle, the reflections on the shadow side are invariably tricky and if you don't get it right they, well, don't look convincing. I hope I have succeeded here. My reference photograph was important for this, and so was a stiff,small, oil painting brush which I used to lift parts of the boats out which weren't right. Then I would very lightly fix those areas with spray and work freely back into those areas. Doing this is no different from wiping out in oil painting.
After this I decided on a swim. I couldn't believe how cold the water was, and I'm a regular swimmer!
Blog Archive
View All Blogs