The Cambridge Art Academy Blog: Summer tour painting 3 - The Langdale Boulders painted with pastels | View All Blogs | Back
Summer tour painting 3 - The Langdale Boulders painted with pastels
Posted On: Wednesday 7th August 2013
Summary: The Langdale Boulders stand just off the small road leading into Great Langdale and I painted them in pastels late in the afternoon

Blog Tags: Landscape painting Outdoor painting Pastels painting Painting mountains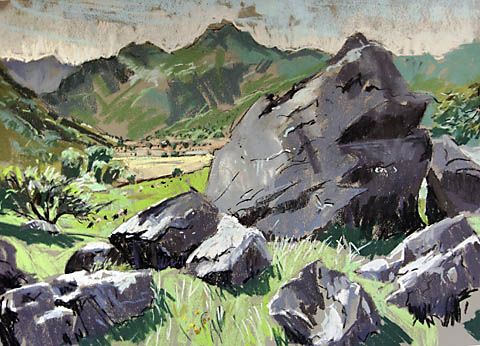 The Langdale Boulders have been using by budding rock climbers for generations to practice their skills at low hieghts, but now they have been designated as of National importance now that Neolithic marks have been discovered on them only recently.
No wonder our ancestors wanted to use them as a "support" for their images. The setting is magnificent, as I hope this large pastel painting conveys. Mostly done on site, but completed back in the studio.
I loved the way the rocks echo the outlines of the distant hills.
Blog Archive
View All Blogs