The Cambridge Art Academy Blog: Rome - the temple of Portunus sketched with an ink pen | View All Blogs | Back
Rome - the temple of Portunus sketched with an ink pen
Posted On: Tuesday 21st May 2013
Summary: A quick sketch of the temple of Portunus in Rome done with an ink fineliner and black brushpen.

Blog Tags: Sketching Buildings How to sketch Painting in Italy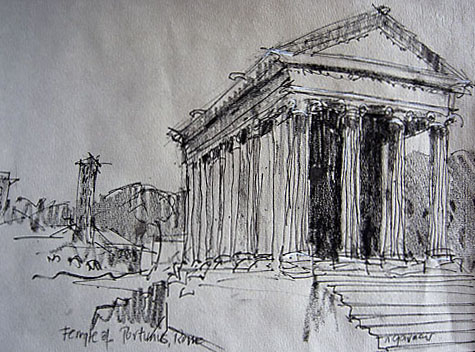 This was a first for me - sketching architectural perfection! Nobody was paying any attention to this building, but it was a highlight in my visit to Rome. I sketched it quickly (20 minutes) using a black fineliner pen with a mixture of trepidation and awe.
Such a strucutre would be utterly unforgiving of inaccuracy in proportion or perspective, but it was almost saying to me "Come on, you can do it." And I think I did OK. Later on I was faced with a similar challenge in the Colliseum, but that's for another day.
The brushpen, dragged lightly on its side can produce nice shading effects as well as blocking in.
Blog Archive
View All Blogs