The Cambridge Art Academy Blog: Breamore Marsh painted in pastels | View All Blogs | Back
Breamore Marsh painted in pastels
Posted On: Tuesday 9th April 2013
Summary: Breamore is a small settlement on the edge of the New Forest in the UK, and this is a small plein air pastel painting done on a fine spring day in 2013

Blog Tags: Landscape painting Outdoor painting Plein air Pastels painting Buildings Reflections in water Painting trees Painting water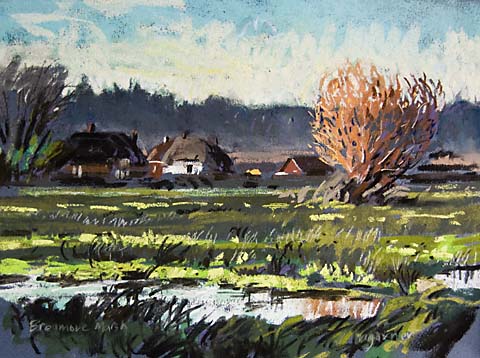 This is one of a series of pastels completed recently in the area around Breamore. The Marsh is a an area of boggy pasture with a shallow pond in the middle of what is quite a spread out little village.
It was a dull day, but as so often happens when you perservere, you are rewarded by a break in the clouds, and this is what happened quite late on in the afternoon. So I rushed to make sure I captured the lighting effect.
Back at the cottage I tweaked and strengthened various parts, making sure some dabs of dark blue-grey allowed the far hills to penetrate the branches of the tree branches on the right. There were no leaves on the tree by the way - just the natural colour of the willow branches as the sap rises at this time of the year.
9"x12" soft pastels on mid-grey pastel paper
Blog Archive
View All Blogs