The Cambridge Art Academy Blog: The Shallows, Breamore, New Forest UK in pastels | View All Blogs | Back
The Shallows, Breamore, New Forest UK in pastels
Posted On: Sunday 7th April 2013
Summary: This is a large pastels drawing done plein air at The Shallows, Breamore, on the River Avon in the New Forest

Blog Tags: Landscape painting Outdoor painting Plein air Pastels painting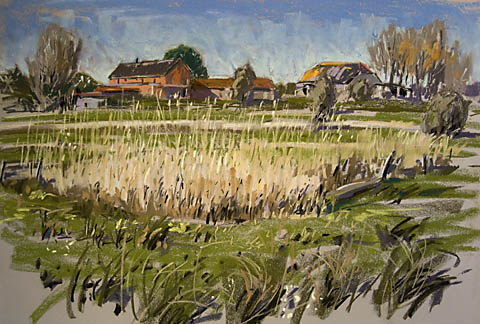 Breamore is a tiny village set in the Northern corner of the New Forest National Park in the UK. I went out early in the morning two weeks ago to draw this with pastels on a large piece of pastel paper - 60cm x40cm. We were staying in a delighful thatched cottage nearby, and it was simple to walk out the front door and start painting. The next few blog entries are all walking distance from the cottage.
One of the great things about painting is that you can simple miss out things that aren't helpful. There were some electricity pylons in the background here which I omitted, and the orange tingle in the tree branches on the right were actually in a group of trees will out of the picture plane - so I just imported them to my composition.
It was cold and windy on location and after about an hour of walking to find a suitable viewpoint, and then painting in pastels for about 45 minutes, my hand were really cold, so I went back for breakfast and finished off in the warmth of the studio - but you can see here how far I got to in front of the subject.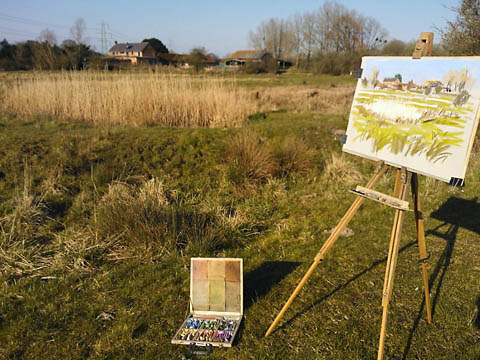 Blog Archive
View All Blogs