The Cambridge Art Academy Blog: View over Bath in watercolour and charcoal | View All Blogs | Back
View over Bath in watercolour and charcoal
Posted On: Sunday 17th March 2013
Summary: A watercolour overlooking Bath in England painted entirely on location in 1985

Blog Tags: Landscape painting Watercolor Outdoor painting Plein air Art techniques Townscapes Buildings Charcoal Watercolor painting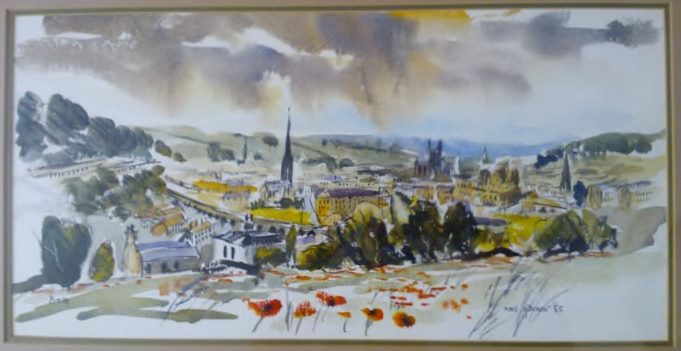 Since I'm on a blast from the past, this is a framed picture of mine which hangs in my sister's house. There's nothing like sisterly love! Like the last blog entry, this was painted in 1985 when I lived in Bath, sketched first with charcoal and then developed in fluid watercolor washes on rough watercolor paper.
The charcoal under-sketch gives a linear character with a bold feel which rather belies the idea that watercolour has to be subtle.
It's a wonderful view of Bath when you know where it is full of poppies in a good year.
Blog Archive
View All Blogs