The Cambridge Art Academy Blog: Plein air pastel in St Catherine's valley near Bath, UK | View All Blogs | Back
Plein air pastel in St Catherine's valley near Bath, UK
Posted On: Tuesday 19th February 2013
Summary: A small pastel on black paper painted plein air near Bath in the lovely St. Catherine's valley

Blog Tags: Landscape painting Outdoor painting Plein air Pastels painting Simple art Painting trees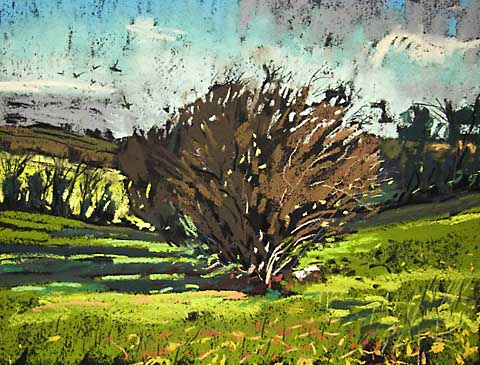 This was painted in pastels, outdoors, at the head of St. Catherine's valley near Bath, UK, in November 2012. I don't know why I like it, but I just do. I think it's the subject. Whenever I visit this area - which is regularly, I either walk to this place or walk past it. Sometimes I have my paints with me - sometimes my binoculars and bird book, but not often both.
I mention Samuel Palmer in the same breath as my own painting with extreme trepidation, but if you know the painting, there is something of "The Magic Apple Tree" in this subject for me.
One thing is for sure - I'll be back there to paint again. In fact it will be in March. I'm looking forward to it. I wonder how many of you have a special place where you return again and again to paint.
8"x12" soft pastels on black, smooth, pastel paper.
Blog Archive
View All Blogs