The Cambridge Art Academy Blog: Leuca, on the heel of Italy, plein air in pastels | View All Blogs | Back
Leuca, on the heel of Italy, plein air in pastels
Posted On: Tuesday 22nd January 2013
Summary: While fish was being cooked for us in the beach restaurant I painted the scene plein air in pastels. Leuca is right on the tip of the heel of Italy

Blog Tags: Boats Outdoor painting Plein air Pastels painting People Buildings Painting water People in paintings Painting in Italy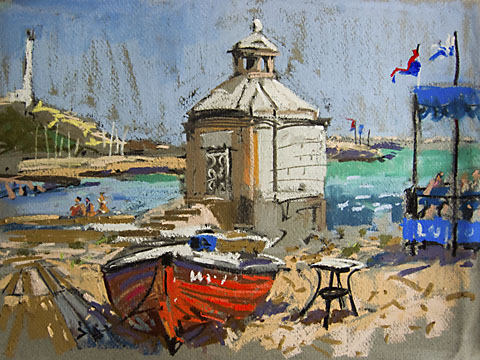 Whilst it's cold here in the UK, with several inches of snow in Cambridge I'm going to take us back to the warmth of Italy, and my painting trip to southern Italy in the summer or 2012. I wonder what it's like there now. Leuca (check it out in Google maps) is on the tip of the tip of the heel of Italy, where the Adriatic meets the Mediterranean.
While our lunch was being prepared I left my wife sipping a cold drink in the shade of the beach restaurant while I painted in pastels plein air. I did 90% of this on the spot and finished off at home by strengthening the shadows and highlights of the boat.
12"x8" sanded surface pastel paper.
Blog Archive
View All Blogs