The Cambridge Art Academy Blog: First snow in the fells above Ullswater, English Lake District in pastels | View All Blogs | Back
First snow in the fells above Ullswater, English Lake District in pastels
Posted On: Saturday 5th January 2013
Summary: Crisp, clear, autumn morning light makes for a wonderful painting atmosphere, and this pastels painting in the English Lake District shows the first dusting of snow on the fells above Ullswater.

Blog Tags: Landscape painting Outdoor painting Plein air Pastels painting Painting trees Painting mountains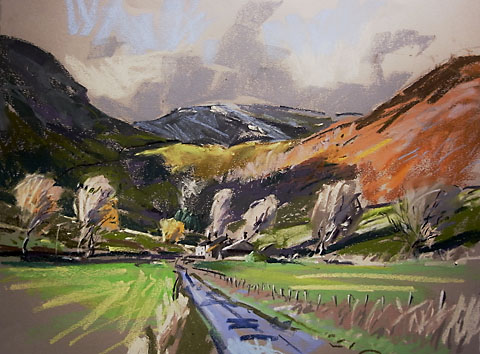 I had only one day of painting in the English Lakes District on the way back home to Cambridge. But what a day! I had set out early from Carlisle and reached this point at about 9.30am. Surely this time of the year is one of the finest for plein air painters:
The sun is always low in the sky, so long and interesting shdows are cast across the landscape, and this is particularly useful when describing mountain scenery.
Autumn colours can be very vivid in sunlight, even in late autumn like in this scene where the trees have lost their leaves, but the dead bracket on the fellside is still a strong orange-brown
In the mountains there may well be snow on the hills -another bonus
The air is often much clearer than in high summer.
I tried to take advantage of these features in this pastel looking west from the south- west corner of Ullswater up the lane to Glencoyne Farm (sounds Scottish doesn't it? I wonder what the history is). Soft pastels on smooth Canson pastel paper - 47 x 32cm . Mostly done on location in November 2012 and finished over Christmas in the studio.
Blog Archive
View All Blogs