The Cambridge Art Academy Blog: Evening view in the Cotswolds, painted in pastels | View All Blogs | Back
Evening view in the Cotswolds, painted in pastels
Posted On: Wednesday 28th November 2012
Summary: An eerie, cold, stillness pervaded this view in the Cotswolds and this small study in pastels was finished in fading light

Blog Tags: Landscape painting Sketching Outdoor painting Pastels painting Painting trees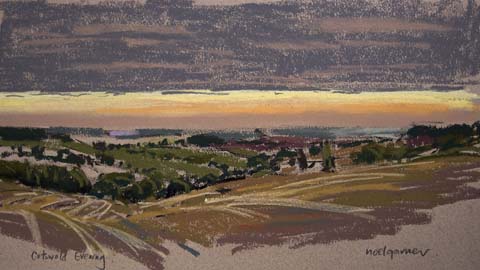 Tewkesbury lies close to the Cotswolds, which is a charming historic area of England characterized by stone villages, intimate valleys and rivers, and white limestone walls.
This view is close to an impossibly named village called Guiting Power. The light was fading fast and a layer of cloud over my head formed a remarkably sharp edge where clear sky beyond revealed the evening light just after the sun had set.
A major contrast with the light and character of the view I had done the previous evening in the chaos of the Mop Fair. I like that kind of play with subject matter.
Blog Archive
View All Blogs