The Cambridge Art Academy Blog: Church Street Tewkesbury in pastels - calm before the Mops Fair begins | View All Blogs | Back
Church Street Tewkesbury in pastels - calm before the Mops Fair begins
Posted On: Sunday 25th November 2012
Summary: The traffic cones were out in preparation for the beginning of the "Mops" Fair in Tewkesbury - this is held once a year and I was there to paint it - in pastels!

Blog Tags: Outdoor painting Pastels painting Townscapes Buildings People in paintings Street scene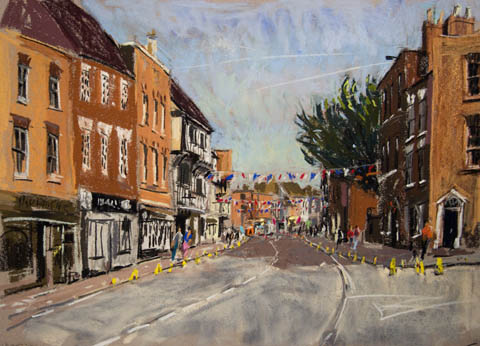 Quite by coincidence our stay in Tewkesbury coincided with the annual Mops Fair. I painted this in pastels in Church Street on the afternoon of the night it started. You could call it the calm before the storm,
As I was set up on the street corner with my pastel on the easel, a chap emerged from a cafe behind me to compliment me on my efforts and inform me that he lived in the house on the right in shadow. He didn't offer to buy it from me however. Should I have made the first move I wonder? Generally people tell you if they would like to purchase I find. So, kind sir, if you happen to see this, yes, it is indeed for sale!
13"x19" on canson paper, smooth side as usual.
Blog Archive
View All Blogs