The Cambridge Art Academy Blog: Start of the Wales IronMan Race at Tenby 2012 | View All Blogs | Back
Start of the Wales IronMan Race at Tenby 2012
Posted On: Wednesday 19th September 2012
Summary: A pastel painted at the start of the 2012 Wales IronMan race held this year at Tenvy

Blog Tags: Plein air Pastels painting People Reflections in water Painting water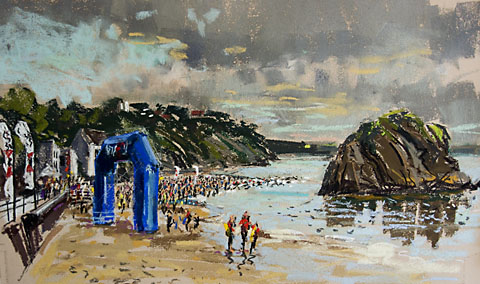 A jump across to the West of the UK, in fact Tenby in Wales, to watch my son compete in an IronMan Race (2.4 miles sea swim, immediately followed by 115 miles cycling, finishing up with a 26 mile marathon, without a break). He did very well - 12 hours and 1 minute.
I was down there before daylight to get a good place to paint from, This is in pastels, 13"x19" . I had plenty of time to do the background so that when the gun went to start the race at 7am all I had to do was put in a few of the 1500 competitors as they entered the water.
Not a composition I would have chosen to be honest - the inflatable blue arch is monstrous. However, this was family time and I was painting for the memory. Sometimes this is what painting is all about.
Blog Archive
View All Blogs