The Cambridge Art Academy Blog: Bargain pastels from Sennelier | View All Blogs | Back
Bargain pastels from Sennelier
Posted On: Tuesday 28th August 2012
Summary: I have just bought up an art shop's remainder stock of Sennelier soft pastels for a bargain price

Blog Tags: Art equipment Pastels painting Cambridge Art Academy Learn to paint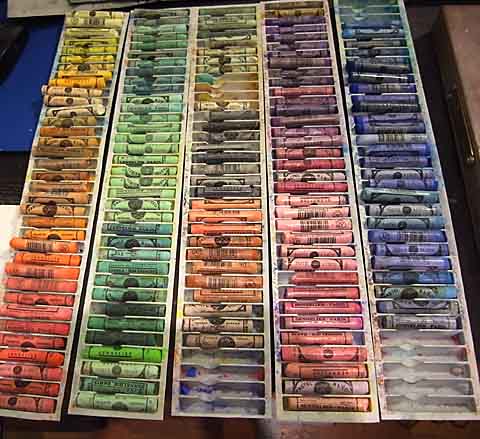 An art shop I use has decided to give up stocking Sennelier pastels, so I have just done a deal with them and bought all the remaining 160 pastels at 35p each. That's about 15% of the normal retail price.
There are lots of repeats or nearly similar colours, and almost no greys, but I can live with that at this price. Sennelier is an excellent brand but the pastels are very soft and crumble in your hand very easily. I think this is why they are not all that popular. It's always worth asking in the shop if you think there might be a deal to be done.
They are going to keep me going for a while!
Blog Archive
View All Blogs