The Cambridge Art Academy Blog: Pastel painting of wildflowers on a Breckland Heath | View All Blogs | Back
Pastel painting of wildflowers on a Breckland Heath
Posted On: Wednesday 11th July 2012
Summary: A plein air pastel painting 13"x19" of wildflowers in a Breckland part of Norfolk, UK

Blog Tags: Landscape painting Outdoor painting Plein air Pastels painting Flowers Painting trees Painting tips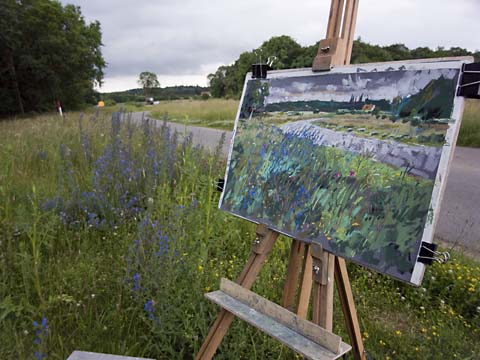 The sandy Breckland Heaths of Norfolk produce a distinctive range of wildflowers, and with all the rain we've been having, they are growing profusely: scabius, ox-eye daisy, clover, and Viper's Bugloss.
This was a quiet little dead-end road leading to a sand pit - so it was totally quiet. I had just come from Norwich where I had bought a few Schminke soft pastels and was keen to try them out, particularly the intense black. I used the black in the deep shadows on the right. It's really difficult to find a deep intense green pastel. I don't know why - Unison's darkest are to same too - more black then green. Certainly lacking in saturation.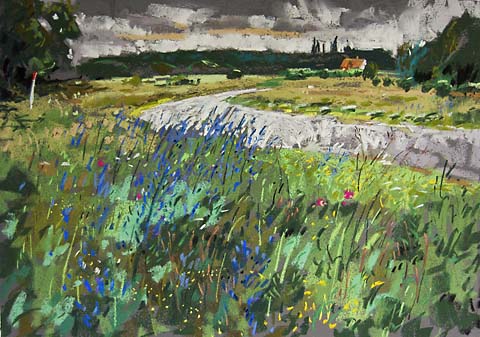 This pastel painting is 13"x19" and it was thoroughly enjoyable to try and represent the rich blue of the Vipers Bugloss in the foreground without overworking the overall effect. As you can see, most of this was done on location and adjusted in the studio.
Blog Archive
View All Blogs