The Cambridge Art Academy Blog: Large pastel painting of a street party for the Queen's Diamond Jubilee | View All Blogs | Back
Large pastel painting of a street party for the Queen's Diamond Jubilee
Posted On: Saturday 9th June 2012
Summary: A riot of colour and movement makes a street party an ideal subject for plein air pastel painting. Here is was a Queen's Diamond Jubilee street party in Cambridge

Blog Tags: Outdoor painting Painting in Cambridge Pastels painting Townscapes People Buildings People in paintings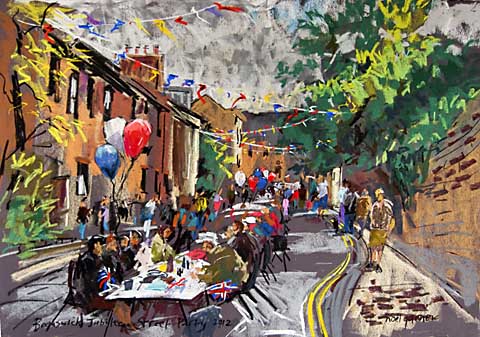 If you aren't from the UK, the British habit of closing the streets and having a meal together in the middle of the road may seem to be a rather strange custom. It is, but the British love a street party and look forward to some Royal event so an official special Bank Holiday will be announced. And then we do street parties. This one was put on by my local church here in Cambridge to celebrate the Queen's 60th year on the throne. Parsonage Street was closed to traffic at midday, and then out came the tables, bunting, flags and food.
This pastel painting is on a large piece of Colourfix pastel paper - 26"x18", which is larger than I normally do. But since I had offered to paint as part of the celebrations, and help judge an art competition with one of the local residents, I thought it best to made a splash and be as visible as possible. Pastels are just so right for this kind of subject and occasion - quick, bright, easy to suggest movement, and if you don't do rubbing, the strokes are visible which I think is part of the charm of pastel painting.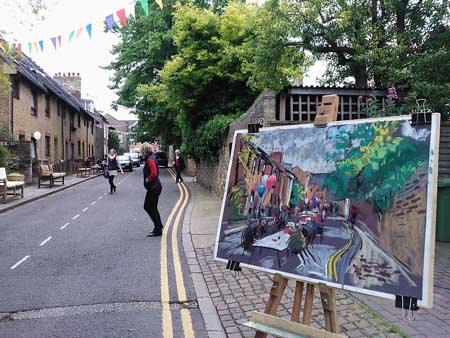 The rain held off but the lighting was mostly rather flat. and there was a strong breeze too. But there was a riot of colour and movement and I hope that comes across. I started with hard pastels and moved on to soft pastels.
Before this I did some large sketches of some children, and followed with this pastel. I did most of the work on location as you can see from the photo, where I am still at it as the people from my church were clearing up.
The colours in the photo of the pastel, by the way, are more accurate than those in the photo of the street scene.
Blog Archive
View All Blogs