The Cambridge Art Academy Blog: Putney Heath Bus Station painted in pastels | View All Blogs | Back
Putney Heath Bus Station painted in pastels
Posted On: Sunday 27th May 2012
Summary: A view painted in pastels of the buses at Putney viewed through the trees on the Heath in morning sunlight.

Blog Tags: Landscape painting Outdoor painting Painting in London Pastels painting Flowers Painting trees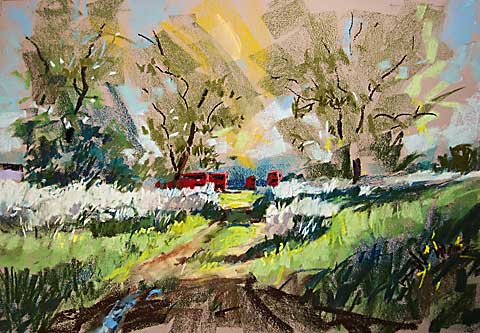 I reckon I have invented a new rule here - place the centre of interest and the brighest colour right in the centre of the painting!
I painted this partly in celebration of the first sunny day for what seems like months, here in England. Just yards away from the busy bus station, there is a a quiet clearing in the trees from which you can get a glimpse back to the buses.
Pastel on colourfix tinted paper 13"x19".
Blog Archive
View All Blogs