The Cambridge Art Academy Blog: Buckingham Palace from the garden sketched in pencil and crayon | View All Blogs | Back
Buckingham Palace from the garden sketched in pencil and crayon
Posted On: Thursday 24th May 2012
Summary: This is the first of two sketches I did from the the garden of Buckingham Palace at the garden party last Tuesday

Blog Tags: Sketching Painting in London Watercolor pencils Painting trees People in paintings Pencil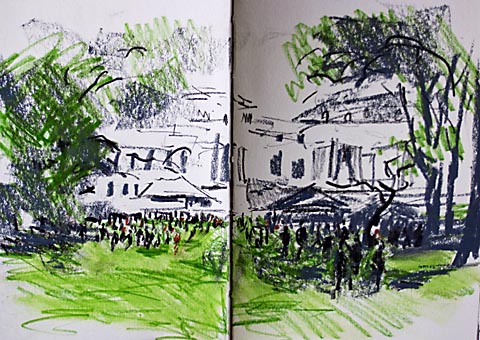 In the event, my sketching drew no attention from officialdom, and I was discrete anyway. Had I got out the Moleskine when we were close to Her Majesty and there might have been a problem.
This sketch was done looking towards the Palace from the Hyde Park Corner end. The garden was a big surprise - it was much more informal than I had imagined and quite a lot of undulations. It was also lovely sunny weather which was a marvellous change from what we have been getting all over the UK.
And the food? Pretty good - nice cucumber and mint sandwiches, tea or iced coffee, and very tasty little cakes. Altogether very civilized - nay, Regal, and it was a privilege to be invited. A day to remember.
Blog Archive
View All Blogs