The Cambridge Art Academy Blog: Oil study at Katwijk beach South Holland while painting with Roos Schuring | View All Blogs | Back
Oil study at Katwijk beach South Holland while painting with Roos Schuring
Posted On: Saturday 12th May 2012
Summary: This was done while painting on the beach at Katwijk aan Zee, Holland, with Dutch painter Roos Schuring

Blog Tags: Landscape painting Oil painting Outdoor painting Plein air People Reflections in water Painting water People in paintings Painting in the rain Learn to paint Painting tips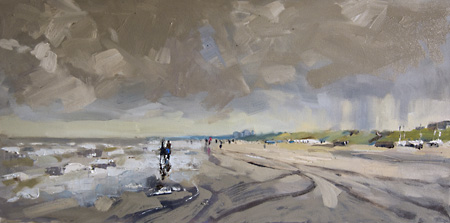 Roos Schuring and I started painting on the beach at Katwijk aan Zee mid morning in early May (last week) in a strong breeze, spots of rain in the air and a heavily overcast sky. Roos paints regularly plein air on the beach around here and is a skilled interpreter in oils of the wonderfully changeable lighting conditions that you get on beaches.
The first thing she taught me was how to weigh down my french easel with a bag of sand to stop it blowing over! But I was there mostly to video her. I'll post our video conversation and my video of her painting live in a few days time for Cambridge Art Academy members.
Whilst we were setting up someone took a photograph of us that appearing later in the day on a
Dutch TV weather bulletin
It's always good to watch other artists at work. It doesn't matter if their style is different - every painter has their own unique way of applying paint, interpreting the subject, using their materials. And in these things there is always something new to learn. In between the video I was learning from her.
This is my version of the scene , oil on canvas 12"x24" Too many hard edges in the clouds - but I'll change that later.
Blog Archive
View All Blogs