The Cambridge Art Academy Blog: Pastel sketch at the 2012 London marathon | View All Blogs | Back
Pastel sketch at the 2012 London marathon
Posted On: Sunday 29th April 2012
Summary: A quick pastel sketch at the 6 mile mark on the 2012 London Marathon

Blog Tags: Sketching Plein air Painting in London Pastels painting People People in paintings Quick painting Painting tips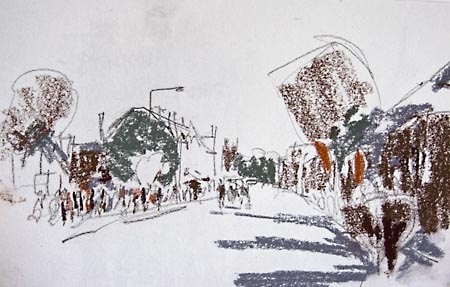 Exactly a week ago my son David was starting the London Marathon and we agreed to be at the 6 mile stage to hand him his drink. He beat his PB to achieve 3hours 12 minutes - which merited drinks all round - of which more tomorrow.
I did a short video which is on Youtube
here
and the footage at this viewpoint is at 1 min 30 secs in.
This view shows the first group of the elite men coming through. The sketch is done on white paper using pencil and a small selection of conte and neocolour grey pastels I happened to have loose in my pocket. Of course the actual scene was a riot of colour and movement, but I think even a very few colours touched in here and there can bring a sketch to life.
Blog Archive
View All Blogs