The Cambridge Art Academy Blog: Plein air oil pochade painting of Tower Bridge from the Pool of London | View All Blogs | Back
Plein air oil pochade painting of Tower Bridge from the Pool of London
Posted On: Friday 27th April 2012
Summary: The rain was driving in towards me as I painted plein air looking towards Tower Bridge downstream on the Thames in Bermondsey

Blog Tags: Oil painting Boats Outdoor painting Pochade painting Plein air Painting in London Townscapes Buildings Reflections in water Painting rivers Painting water Quick painting Painting in the rain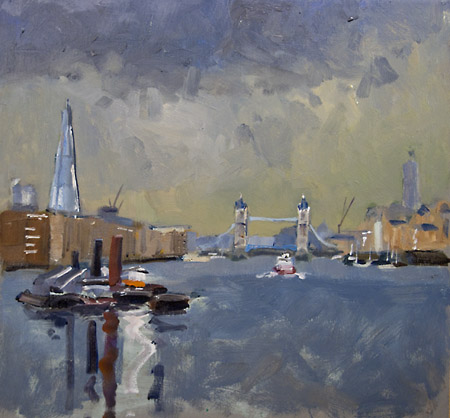 A break from London sketches. This is one of the oil pochade paintings I started looking towards the Pool of London and Tower Bridge from the Thames south bank in Bermondsey.
The big building on the left is called the Shard and as it nears completion, completely dominates the sky-line on the south bank near Waterloo Bridge - I think it's a big mistake.
A huge rainstorm was gathering and coming towards me - already the dome of St. Paul's is disappearing into the rain. The sky was almost green and I was about to get wet! Standing on the back balcony of "The Angel" pub, I had to rush into the bar and dry off. See the
linked post.
10"x10" oil on board.
Blog Archive
View All Blogs