The Cambridge Art Academy Blog: Conte and pen and ink sketch in St Martin's Lane, central London | View All Blogs | Back
Conte and pen and ink sketch in St Martin's Lane, central London
Posted On: Tuesday 24th April 2012
Summary: This is a quick sketch in the rain looking towards Trafalgar Square from St. Martin's Lane in London

Blog Tags: Sketching Plein air Painting in London People Buildings People in paintings Painting in the rain Pen and ink How to sketch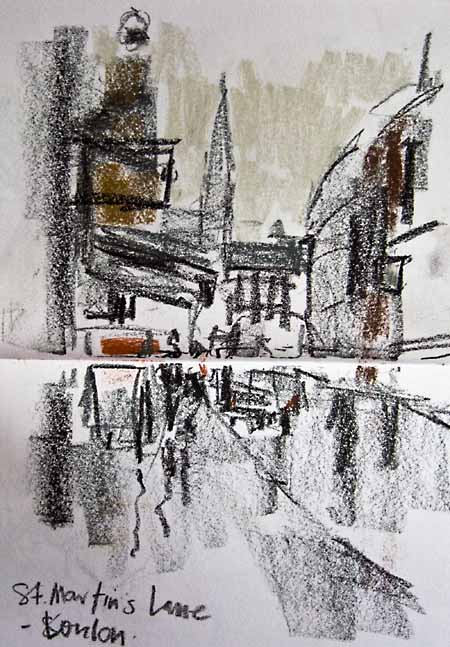 All last week I painted outdoors in London, making a start on 12 small oil paintings and quite a few sketches. This is one of them, in St. Martin's Lane looking towards Trafalgar Square. It was raininng - of course! - but this provides its own interest, and I sheltered under an overhang to sketch in pen, conte and neocolours crayons. From here I walked down to Whitehall, so I'll post those sketches in the next day or two.
This took perhaps 10 minutes to do. It was too cold to stay still for very long. I had two conte crayons and a couple of soft pastels in different browns so I used them to inject a hint of colour. An interesting scene and this sketch with a reference photo is all I need to work it up into a larger painting if I choose.
The sketch was spread across two pages of my Moleskine sketchbook.
Blog Archive
View All Blogs