The Cambridge Art Academy Blog: Painting with oils in pouring rain - plein air near Kew Bridge London | View All Blogs | Back
Painting with oils in pouring rain - plein air near Kew Bridge London
Posted On: Friday 20th April 2012
Summary: I think I have determined the absolute limit on painting with oils in the rain. Take a look at this plein air effort near Kew Bridge on the River Thames in London.

Blog Tags: Oil painting Boats Pochade painting Plein air Painting in London Buildings Reflections in water Painting rivers Industrial buildings Painting water Quick painting Painting in the rain Learn to paint
My week painting plein air in London continues to be dogged by bad weather. This one is from two days ago. It was raining as I started this, not far from Kew bridge in London on the Thames, but since it had rained so often during the day it was a matter of trying, or just giving up and going home.
The rain just got worse, and the gessoed board I was painting on soon had water running down it. The paint simply wouldn't stick. Yes, you will rightly say "duh...excuse me, water and oil?" and you'd be right. Anyway I had to pack away as I was getting wet too, and this is what it looked like when I got a chance to photograph it indoors: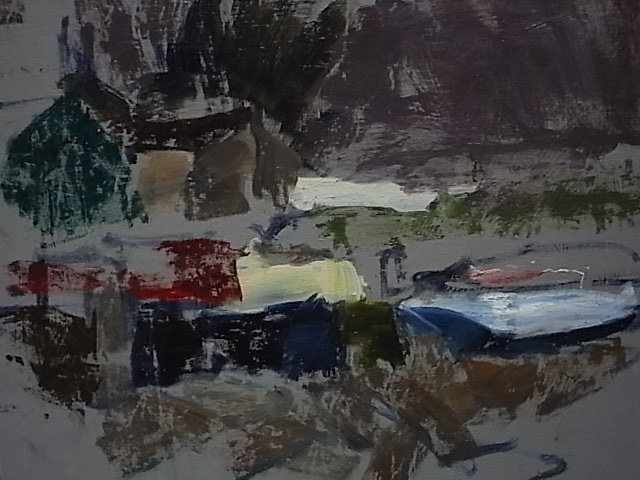 I apologize for the large size of these photos by the way. I'm posting this using my son's laptop from his flat in London while he's away on business. And it doesn't have any photo editing software - I'm stuck with photographing with the lowest size and resolution my camera can manage. OK, it's awful, but at least it got the essence of the scene into my brain. My conclusion is that if you start painting in the rain and get your canvas covered with at least a thin layer of paint, and THEN it starts raining, the paint will stick pretty much OK to the paint you have already laid down.
There is another solution - an umbrella. Trouble is I'm carrying my pochade kit with me on the Tube, train and bus. And pulling it all along in my trolley/rucksack, weight becomes an issue. An umbrella doesn't make the cut, and how would I fix it to my lighweight pochade equipment?. Mmmm....
Later on when the water had dried off the painting I worked on it some more in the kitchen which is now my temporary "London studio." I was helped by loading up a reference photo onto my son's laptop. Here it is (12"x12" oil on gessoed board primed with mid-grey acrylic):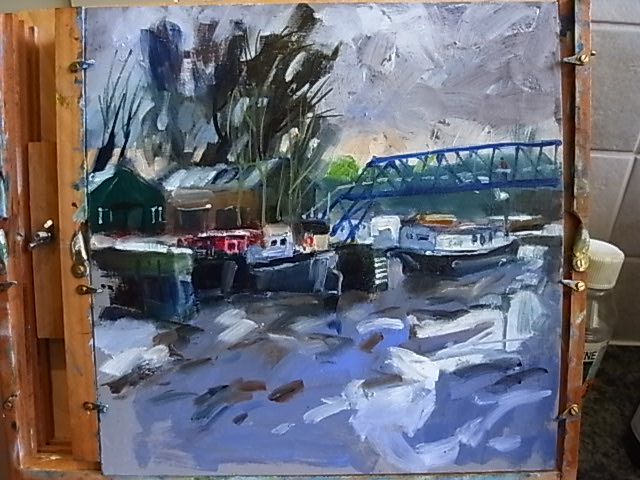 Blog Archive
View All Blogs