The Cambridge Art Academy Blog: Corsican Pine and Cherry tree blossom painted in oil | View All Blogs | Back
Corsican Pine and Cherry tree blossom painted in oil
Posted On: Tuesday 3rd April 2012
Summary: This corsican pine tree is in someone's front garden in Cambridge. I painted it in oil to get the cherry blossom in the background as well.

Blog Tags: Oil painting Outdoor painting Plein air Painting in Cambridge Townscapes Buildings Painting trees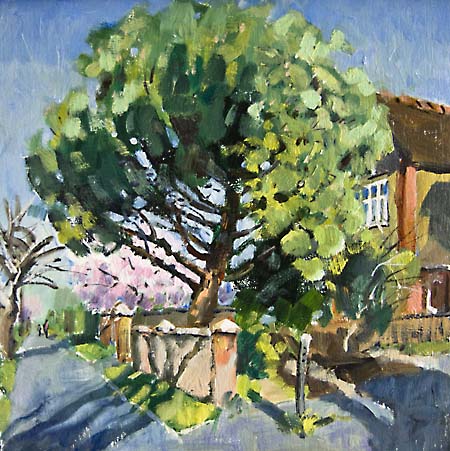 It's easy to miss this beautiful corsican pine because it's in someone's front garden on a busy road in Cambridge. I was out looking for a cherry tree with lots of blossom to paint. Sure, I found the blossom, but decided to make the tree the centre of interest.
I sat on my little art chair with the attached rucksack on the edge of the road. My wife says she spotted me as she drove past on her way home, and said I looked like a little old man in a small wheelchair! Only the one you love can be that rude!
Oil on board 12"x12"
Blog Archive
View All Blogs