The Cambridge Art Academy Blog: Punts on the river Cam in Cambridge drawn with pastels | View All Blogs | Back
Punts on the river Cam in Cambridge drawn with pastels
Posted On: Tuesday 27th March 2012
Summary: A drawing of punts using soft pastels. On the first day of summer time the river Cam, which runs through the centre of Cambridge, is alive with tourists and the punts are busy.

Blog Tags: Boats Sketching Outdoor painting Painting in Cambridge Rowing Pastels painting Reflections in water Painting rivers Simple art Composition Painting water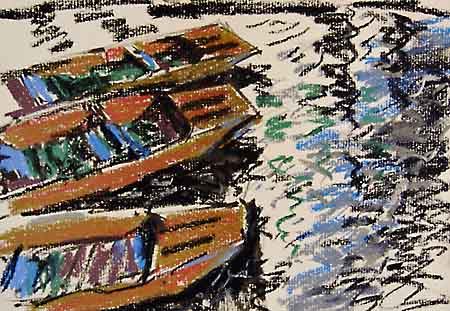 This was a last minute pastel drawing after an enjoyable afternoon sketching with several local artists from the Cambridge area.
I was looking down on the river from Silver Street bridge, and there was a wide range of subjects available on the theme of punts. I chose this composition because I liked the way these three punts fanned out, pointing at the reflections on the right hand side . The punts kept moving around with the movement of the water, so I just had to stick to the positioning that I had first chosen.
4"x6" soft pastels on tinted ingres pastel paper.
Blog Archive
View All Blogs