The Cambridge Art Academy Blog: Digital painting of the Royal Victoria Dock, London | View All Blogs | Back
Digital painting of the Royal Victoria Dock, London
Posted On: Friday 23rd March 2012
Summary: Using an Android tablet and digital software, this view of Royal Victoria Dock is a "painting" done on location at the Royal Victoria Dock, London

Blog Tags: Boats Plein air Painting in London Townscapes Buildings Digital painting Reflections in water Industrial buildings Painting water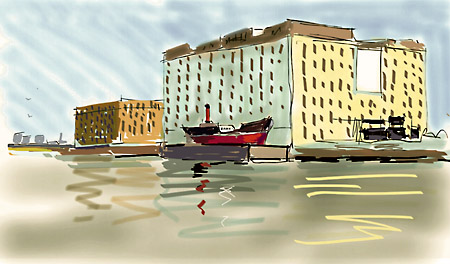 When I came out of the ExCel exhibition centre in central London yesterday afternoon, I walked across to the Royal Victoria Dock and "painted" this view of Millenium Mills using my Android tablet and a stylus.
Seeing David Hockney's use of an iPad as a painting tool has inspired me to use the tablet in this way again. I was using Sketchbook Pro for this. The nice bit - and a time saver - is you can take a photograph and open it as a layer. I faded the background photo to 50% opacity and then drew the outlines on a superimposed layer using the underlying photo as a guide. That done, I deleted the photograph layer and continued sketching from the view in front of me.
Back in the office I brought the image into Photoshop and used my Wacom tablet and stylus to tweak it and add a few details. Actually this software is capable of producing amazing images although on the whole it is used by illustrators rather than painters.
Blog Archive
View All Blogs