The Cambridge Art Academy Blog: Painting with pastels in Picadilly Circus London | View All Blogs | Back
Painting with pastels in Picadilly Circus London
Posted On: Monday 12th March 2012
Summary: This is a small painting done plein air in pastels with my pad and pastels box perched on a bollard set in the pavement. Picadilly Circus with the statue of Eros on the right. It took 15 minutes to complete.

Blog Tags: Sketching Outdoor painting Plein air Painting in London Pastels painting Townscapes Buildings Simple art Quick painting Learn to paint Painting tips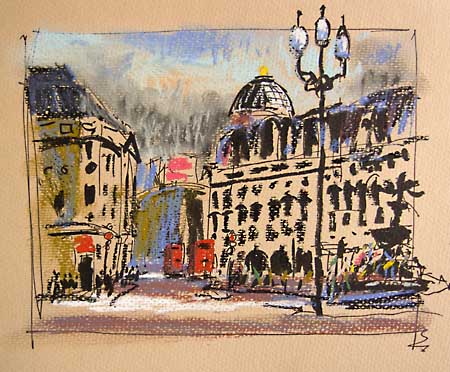 Whilst I used soft pastels, fine black marker and a brushpen, my friend Marco was drawing with a brush pen on its own. I like being with another artist painting plein air from the same viewpoint. There's always a totally different way of seeing the same subject.
I only had a small selection of pastels with me, so using the colour of the paper is a bonus with pastels. The pad I had with me has various tints so I chose one that more or less matched the predominent colour of the buildings.
I started by "framing" the outline with ink, then used the pen to draw the outlines and the brushpen to block in deep shadows. Then I got to work with the pastels.
10"x7" on pastel paper.
Blog Archive
View All Blogs