The Cambridge Art Academy Blog: Punts on the river Cam in Cambridge sketched in gouache and pen | View All Blogs | Back
Punts on the river Cam in Cambridge sketched in gouache and pen
Posted On: Monday 5th March 2012
Summary: Why not learn to paint in gouache rather than transparent watercolour? If you paint in oil as well, you will find gouache easy since it is basically an opaque medium. Dries quickly and you can draw or pastel over it. This is of punts on the river in Cambridge.

Blog Tags: Boats Sketching Outdoor painting Painting in Cambridge Rowing Art techniques Townscapes People Gouache Buildings Mixed media Cambridge Art Academy Reflections in water Painting rivers Painting water People in paintings Quick painting Pen and ink Learn to paint Painting tips How to sketch Painting tips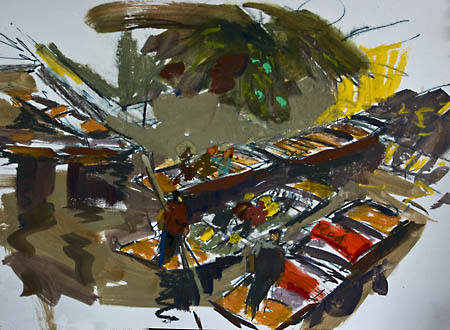 I was with a group of other artists when we crossed over this bridge. To be honest I thought they would stop and sketch too. I think they were cold and looking forward to a cup of tea in the centre of Cambridge. I realised it was just me, so I had to be very quick with this one. This bridge doesn't have a stone parapet - just thin metal railings, so I placed my sketch pad on the ground and did the same with the paints - kneeling down to do the sketch.
Three stages:
1. Brief outline with dark blue fountain pen and a few colour notes.
2.Brush on main colours using a watercolour "flat" brush using gouache opaque watercolour - plus a bit of water
3. Back in the studio went over some areas with oil pastel.
And that was it. A4 cartridge paper in a pad.
Blog Archive
View All Blogs