The Cambridge Art Academy Blog: Cold snow and warm branches painted in oil pastel plein air at Fen Drayton | View All Blogs | Back
Cold snow and warm branches painted in oil pastel plein air at Fen Drayton
Posted On: Friday 24th February 2012
Summary: This was started on location late one afternoon in the snow using oil paint on gessoed board. When dry it was further developed in the studio using oil pastels

Blog Tags: Landscape painting Oil painting Outdoor painting Pochade painting Art techniques Cambridge Art Academy Oil pastels Painting trees Snow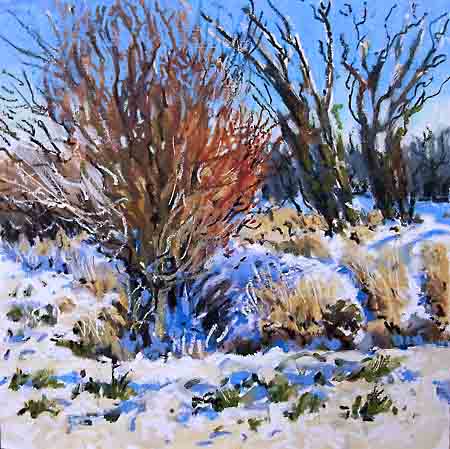 I set up my easel and pochade box one late afternoon a week ago while we still had deep snow, and made a start on this using Alkyd oil paints. About an hour and then the sun was setting. The evening light made even the snow highlights warm, and the tree branches glowed with early spring colour. It made a lovely contrast - cool against warm. And the dead grasses poking through the snow played their part as well.
A few days later back in the studio and the thin alkyd had dried off. I changed direction altogether and finished it off with oil pastels. Carefull choosing 8 sticks, plus black, and white, I just stuck to these Sennelier pastels to keep the colour palette simple.
A massive difference in approach and medium used in
yesterday's post.
10"x10" gessoed board.
P.S. The video set on painting snow in oils is now available. Further information
here
Blog Archive
View All Blogs