The Cambridge Art Academy Blog: Buzzard being mobbed by a jackdaw - pencil sketch | View All Blogs | Back
Buzzard being mobbed by a jackdaw - pencil sketch
Posted On: Wednesday 8th February 2012
Summary: I sketched this mini-drama whilst walking in the beautiful St. Catherine's valley near Bath, UK two weekends ago. In an otherwise empty sky a lazily floating buzzard was being hustled and harried by jackdaw which I sketch in pencil

Blog Tags: Landscape painting Sketching Birds Simple art Painting trees Pencil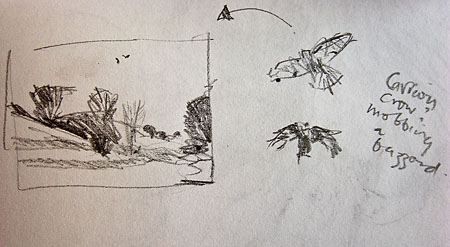 Whenever I visit my sister's place near Bath, I never fail to walk out the door and into the upper part of St. Catherine's valley. It's like an outdoor cathedral to me, though I can't say why.
At first I thought it was a carrion crow mobbing the buzzard, but on reflection - and advice from my bird expert friend Dave Chandler - it was probably a jackdaw. There were no other birds in sight at that moment so I simply enjoyed sketching the mini drama. It was the buzzard that had to give ground.
It's only a gestural sketch, but by putting the birds into their landscape setting, a lot more information is put across, and as an artist who loves the landscape, combining the two is very appealing.
There's a new article and video uploaded
here
that gives advice about
how to start sketching and drawing birds outdoors
. There's a useful checklist, plus a free 7 minute video in which I go on location to sketch birds.
Blog Archive
View All Blogs