The Cambridge Art Academy Blog: Oil study of the river in Cambridge in the snow | View All Blogs | Back
Oil study of the river in Cambridge in the snow
Posted On: Sunday 5th February 2012
Summary: Today was the first snow of the winter in Cambridge and I couldn't wait to get out and paint. This is one of two small oil studies done from Elizabeth Way bridge overlooking the river Cam. The dull sky and lots of dark figures had something of Lowry about it.

Blog Tags: Landscape painting Oil painting Outdoor painting Pochade painting Painting in Cambridge Townscapes People Buildings Birds Reflections in water Painting rivers Composition Painting trees People in paintings
Today, Sunday, saw the first winter's snow here in Cambridge, UK. About six inches fell overnight, and I couldn't wait to get out there. This scene is looking down at the River Cam from the road bridge at Elizabeth Way. I got lots of hoots from passing cars, and a salvo of snowballs from the footpath below. Everyone in rather high spirits I think.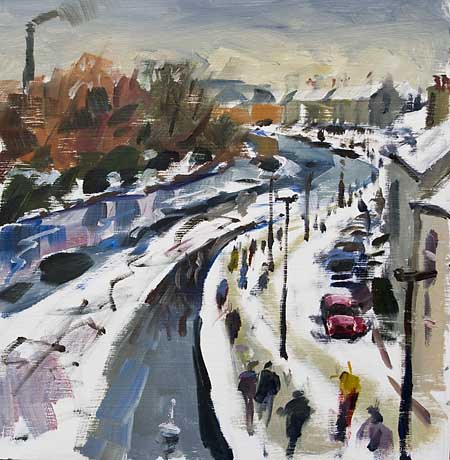 I managed two 10"x10" studies in oil, one from each side of the bridge. This is the second one which took about 45 minutes and is shown as I photographed it on location. Amazingly the chimney of the old power station (which is now a working museum) actually had smoke coming out of it - I have a photo to prove it! That and the many small black figures on the path made for a Lowry-esque connotation which I enjoyed to the full.
A thin coating of ice covered most of the river, bisected by an open lead of water in the middle created by a passing motor boat. A swan also conveniently swam into view making it possible for me to continue the "birding" theme of my latest batch of paintings.
The S-shape composition, and the hint of spring colour in the branches of the riverside trees all added up to great potential for a larger version of the same subject.
Blog Archive
View All Blogs