The Cambridge Art Academy Blog: Painting sheep in David Cameron country | View All Blogs | Back
Painting sheep in David Cameron country
Posted On: Friday 3rd February 2012
Summary: This field of sheep against a dramatic evening sky was painted in oil on location in David Cameron (UK Prime Minister) country on the edge of the English Cotswolds

Blog Tags: Landscape painting Oil painting Outdoor painting Pochade painting Painting animals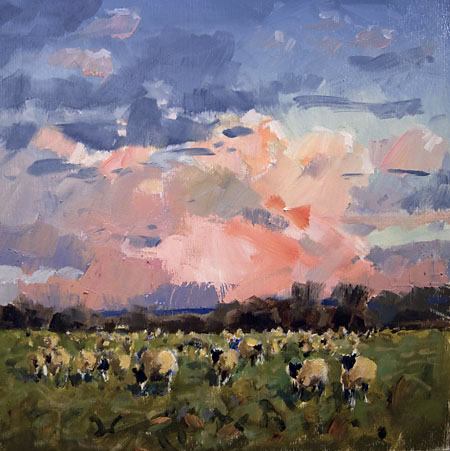 A short break from posts about birds, this was painted on location in oil using my pochade box. I was travelling from Cambridge to Bath and stepped out of the car to paint briefly. This field of sheep caught my eye, and the evening sky was dramatic too.
This is Prime Minister David Cameron's Parliamentary constituency. Why is that important? Good question - but how else can I distinguish this field of sheep from all the others? Mind you, it does tell you that the Prime Minister represents one the more "green and pleasant" parts of the UK. It's not far south west of Oxford.
When I set up my pochade box, the sheep all ran off, but as I settled to the task of painting, curiosity got the better of them and they became my audience. Hope they liked it, and I hope I have reflected their silent gaze in the evening light.
Oil on gessoed board 10"x10"
Blog Archive
View All Blogs