The Cambridge Art Academy Blog: Happisburgh lighthouse painted with oil bars | View All Blogs | Back
Happisburgh lighthouse painted with oil bars
Posted On: Wednesday 18th January 2012
Summary: This oil bar painting of Happisburgh lighthouse is 12"x12" on gessoed board. This one painted in the study from a reference photograph taken on location.

Blog Tags: Landscape painting Buildings Simple art Industrial buildings Oil bar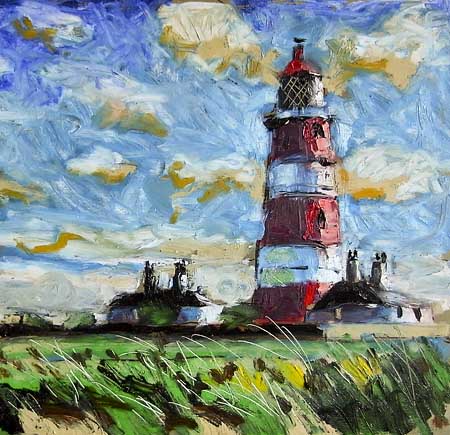 Happisburgh lighthouse on the East coast of Norfolk, UK, stands on the crest of cliffs that are slowly crumbling into the sea. The view that is shown on
this blog
is from the same spot exactly, but looking to the left.
This one was painted entirely in the studio from a reference photograph. While I have the oil bars in the studio I want to continue using this medium. The bars are very chunky, and painting detail - especially on a small board like this- is almost impossible. But I used a pen knife to scratch out some detail here and there, and in a few places I pushed pigment off an oil bar onto a small palette knife and then imprinted that onto the image.
I've indulged in a visual trick here that in fact is a fallacy - that the most saturated colour is on the boundary of the shadow and lit areas. You can see I've done this on the red stripes on the lighthouse. It's not true of course, but it's effective in this case. Also I have a bit of green from the field reflected back into the lower shadow area of the white stripe. This also didn't exist - in reality the green wouldn't have reflected back up so far from the ground. But I used that trick as well - as long as it's not too obvious it works fine. The overall effect is that the colours on the lighthouse "jump out" more than they did on the photograph, but I wanted it to be a really dramatic focal point to the picture.
Blog Archive
View All Blogs