The Cambridge Art Academy Blog: Market Square Cambridge UK painted in oil | View All Blogs | Back
Market Square Cambridge UK painted in oil
Posted On: Sunday 18th December 2011
Summary: This was painted in oil from the tower of St. Mary's church Cambridge as it started to get dark.

Blog Tags: Oil painting Outdoor painting Pochade painting Painting in Cambridge Townscapes Nocturne painting Buildings People in paintings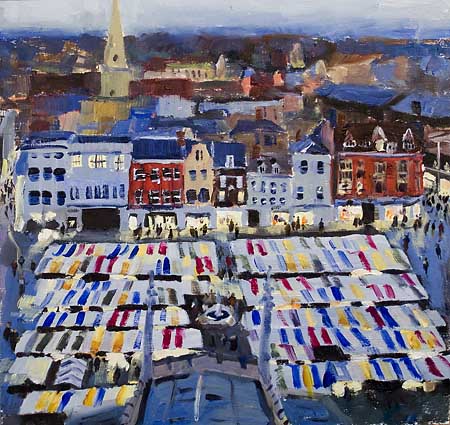 Painted the same day as the Nocturne from Bene't Street, this view of Cambridge market was painted from the roof of the tower of St. Mary's church. I was using oil paint with my pochade box, plein air, but finished in the studio.
In the studio I decided to lower the values and darken the palette to more subdued tones that were prevalent as I finished painting. I did this in order to give "headroom" at the top of the value scale for the brightly lit shop windows.
In the next few day I will describe the method I used in a new video for Cambridge Art Academy members. The purpose of finishing this small oil study (12"x12" on gesso board) was to decide whether to do a much larger version - I think it would work well.
Blog Archive
View All Blogs