The Cambridge Art Academy Blog: Smoke on the water - at Titchwell bird reserve painted in water mixable oil paint | View All Blogs | Back
Smoke on the water - at Titchwell bird reserve painted in water mixable oil paint
Posted On: Friday 9th December 2011
Summary: The last of my series of blogs from Titchwell RSPB bird reserve in Norfolk UK. In this one I show a small painting on board using water mixable oil paints. I call it "Smoke on the water". Why not?

Blog Tags: Landscape painting Sketching Outdoor painting Pochade painting Plein air Art techniques Cambridge Art Academy Water-mixable oils Painting water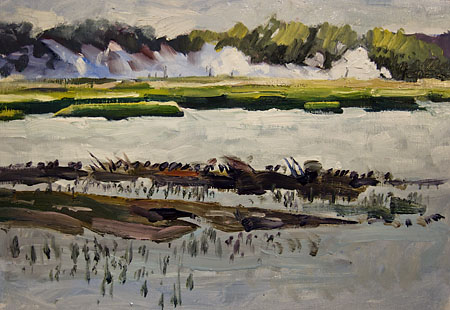 This is the last in my series of blogs from Titchwell RSPB bird reserve. I did in fact take a small pochade box with me equipped with water mixable oil paints, as well as watercolour coloured pencils.I painted this while we ate our sandwiches, looking out over the reserve from the brand new and very posh hide that is now in operarion there.
I don't know what the fire was about - presumeable some maintenance operation - but it made an interesting feature. I show here my oil sketch and a reference photograph taken from the video I shot at the same time.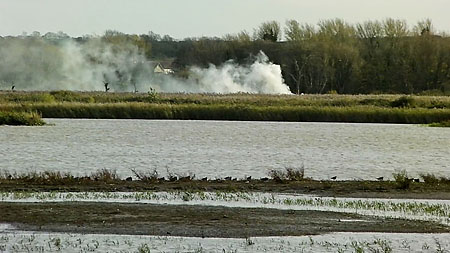 I have a bigger range of colours now with which to paint in water-mixable oils. There are one or two advantages - one is that I know I'm not bothering other bird watchers in the hide with the smell of turps. Another is that it's simpler to clean up. In fact I did get a smudge or two of paint on the pristine new fitted desks in the hide, but it was simplicity itself to use my water spray on them and wipe it clean with a rag.
Blog Archive
View All Blogs