The Cambridge Art Academy Blog: Sketch of a Vermeer painting on show at the Fitzwilliam Museum, Cambridge | View All Blogs | Back
Sketch of a Vermeer painting on show at the Fitzwilliam Museum, Cambridge
Posted On: Saturday 26th November 2011
Summary: This is one of four sketches I did of Vermeer's paintings on show in a very crowded gallery at the Fitzwilliam Museum, Cambridge.

Blog Tags: Oil painting Painting in Cambridge People Cambridge Art Academy Painting interiors Composition People in paintings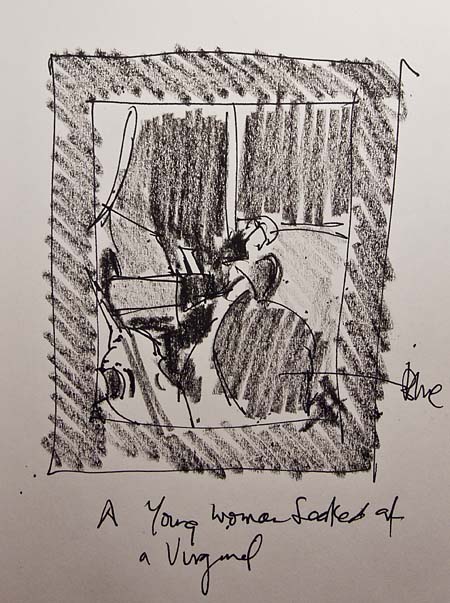 Another of my sketches at the Fitzwilliam Museum Vermeer exhibition.
I sketched this in crayon in front of the original painting called "A young woman seated at a virginal" which is on show at the Fitzwilliam Museum here in Cambridge (November 2011). There was a big crowd milling around, but not so bad that I couldn't use my sketchbook. Materials used were fine black pen, neocolour water-soluble crayon and carre pastel.
I worked quickly without thinking about it consciously - the result is a series of shapes which form a rather interesting and balanced composition. So the lesson I learned is that although Vermeer's paintings are about light, and atmosphere and the subject itself - all is underpinned by a strong composition. In this case it leads unerringly to the head of the young woman who is looking at the viewer with a somewhat disengaged look on her face.
Blog Archive
View All Blogs