The Cambridge Art Academy Blog: Clematis and rose flowers in the garden - painted in oil | View All Blogs | Back
Clematis and rose flowers in the garden - painted in oil
Posted On: Saturday 19th November 2011
Summary: A painting of flowers - clematis and roses - in the garden. This oil was started in May but not finished until late November. Somehow it got lost in the studio. But the roses were still in flower

Blog Tags: Oil painting Outdoor painting Pochade painting Plein air Painting in Cambridge Flowers Cambridge Art Academy Composition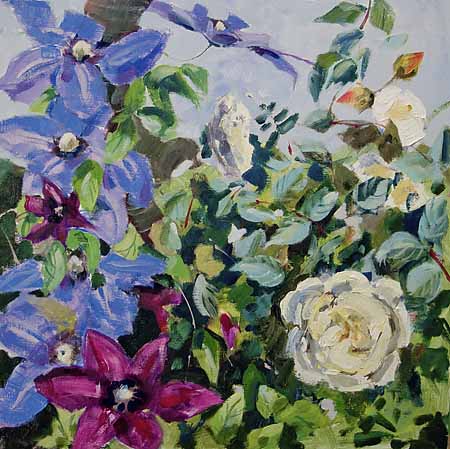 At the beginning of this video you can hear the birds chirruping away as they build their nests. But there has been a long gap between painting these clematis and roses in the garden and completing it in the studio. It just got pushed behin other work. But amazingly (to a non-gardener like me) the roses were still blooming in mid-November, so I could bring a few indoors to help me complete the picture.
I debated how to complete the composition, asking myself whether or not the top third of the painting should remain relatively empty. I decided that if I filled it up with more flowers I would end up with something more like a wallpaper pattern than a portrait of a real subject. Besides, it looks like the flowers and leaves are "settling" towards the bottom - an idea I rather like.
The rose towards the bottom was a real problem. It's one of those roses with a tight formation of petals - lots of them - and the pale cream was tricky too, especially in the shadow areas. I scrubbed it out several times before picking one of the last of the blooms and bringing it into the studio to help me - where it dropped its petals very quickly!
This painting is the subject of a 35 minute video which is available free to Level 3 members.
12" x 12" oil on board
Blog Archive
View All Blogs