The Cambridge Art Academy Blog: Pen and crayon sketch of ancient toilets in Pont Audemar | View All Blogs | Back
Pen and crayon sketch of ancient toilets in Pont Audemar
Posted On: Friday 21st October 2011
Summary: I dived down a little back-alley in Pont Audemar in France and came out at water level, where the main feature appeared to be a couple of ancient "bathrooms" overhanging the stream. Had to be sketched!

Blog Tags: Sketching Plein air Townscapes Buildings Painting in France Reflections in water Simple art Painting water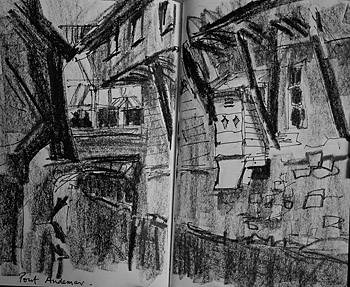 Still on Day 9 and on our way to Rouen via Pont Audemar.
Lots of little back alleyways - perfect for the artist.
This one led down to the water-side of a little stream running through the backs of some medeival buildings - which featured... ahem... some rather fine "conveniences" as we sometimes call them in the UK.
They had to be sketched. The detail was fantastic and the overhanging first floor of the building leading towards the bridge made a great picture. Another one that got away I guess because we needed to move on to Rouen by evening.
For this one I sketched acros both pages of my open sketchbook - it was simply too "big" a subject to cram into one page.
On the Rouen - and maybe a chance to see where Monet painted the West end of the cathedral....
Blog Archive
View All Blogs