The Cambridge Art Academy Blog: Pen sketch in Cambridge College Chapel | View All Blogs | Back
Pen sketch in Cambridge College Chapel
Posted On: Wednesday 6th July 2011
Summary: A pen and lumocolor crayon sketch done during a piano recital in a college chapel in Cambridge, UK. Can't recall which college though.

Blog Tags: Sketching Painting in Cambridge Cartoons Cambridge Art Academy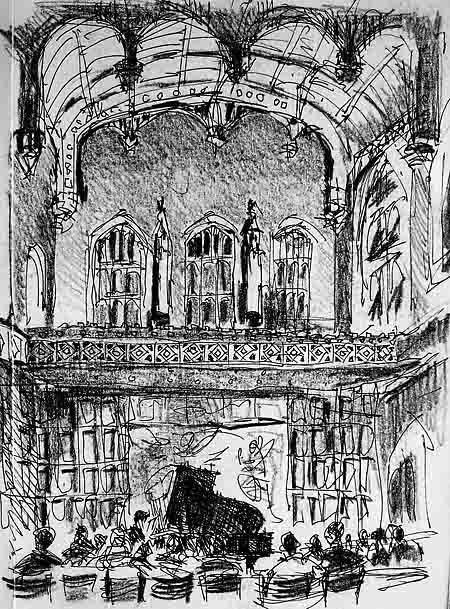 Done in a 6" x 8" catridge paper notebook. I can't have been that excited by the music - I'm not a multi-tasker and I was totally absorbed by the sketching. I usually take a small sketchbook with me to such events in case I get either inspired to sketch or bored by what I'm listening to or watching. But I think somehow the music has a background influence.
I fancy I may have been listening to Bach - mathematical, ordered, precise, organised, detailed - a bit like the sketch.
This Saturday I will be going to see a performance of "Macbeth" at the "leper church" in Cambridge with friends. I'll take the sketchbook with me and see if madness descends! "Out, damn'd spot!" I can see it now....
Blog Archive
View All Blogs