A Conversation with... | Bird Artist John Threlfall enthuses about painting birds in acrylic and oil | Back

Bird Artist John Threlfall enthuses about painting birds in acrylic and oil
John Threlfall is one of several outstanding bird artists I met recently at the annual RSPB Birdfair at Rutland Water. I got to chat with him on video on behalf of Cambridge Art Academy, and he really put across the soul and the techniques of the bird painter.

Member Content: You Are Viewing A Preview Of This Content. Register Now For Full Free Access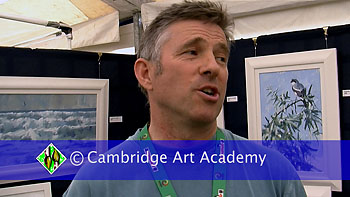 Having done a bit of bird painting myself, when I got to talk with John Threlfall at the RSPB Birdfair, I was enthralled to hear his take on the subject. This is an artist who is not so much an illustrator - such as you might find in guide books about birds. Rather, he is an artist whose subject matter is birds. There's a big difference and I found in John a kindred spirit - spending time outdoors, not afraid to make many sketches that will never see the light of day, but which all help him to get inside the character and habitats of birds. All in pursuit of authenticity rather than mere accuracy. As a result, his finished paintings work
as paintings
, not just bird paintings.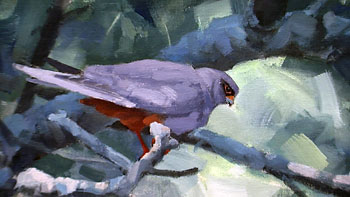 Well, that's the way I saw it anyway. I learned a lot just talking with him and getting close up to his work. Check out this sample to whet your appetite and then head over to the free membership sign-up page to see the complete video interview. It's really worth it. And of course you then get access to all the other members-only resources.

more of this content available online now!

To read the full item and access all our valuable FREE content, please Sign Up As A Free Member. Its quick, easy and it really is all FREE. No credit card or payment needed!
Already a Member? Login As A Member and get instant access to this content now.