Painting tips | How to make fingerless painting gloves | Back

How to make fingerless painting gloves
Normal gloves are no good for painting - artists need fingerless gloves in order to paint outdoors in cold weather. Here's a few ideas.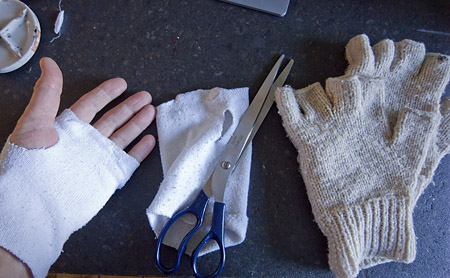 Everything you paint is through the fingers, and normal gloves take away all feeling. Worse, some are so slippery you can't even hold the brush or pencil securely. The answer for painting outdoors in cold weather is fingerless gloves.
Here are four ways of getting fingerless gloves:
OK, you can probably buy them if you shop around.
Cut off the finger and thumb tips of some old gloves.
Plead risk of frostbite with someone who loves you and knows how to knit - my preferred option :-)
If he or she doesn't know how to knit, or doesn't buy your story, cut off the ends of an old pair of socks and cut small holes for your thumbs.