Painting tips | How to get oil paint to dry quicker | Back

How to get oil paint to dry quicker
If you want to get your oil painting to dry quicker, there are several ways of achieving this. Here I will tell you about a couple of methods I use
One of the drawbacks to painting in oils is the time it takes to dry enough for you to paint over what's already there. This is particularly true with "plein air" painting when you want to do a painting in one session, but also when you are in a hurry - like getting paintings finished in time for an up-coming exhibition.
Here's how I do it: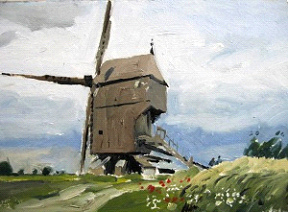 1. Paint "alla prima". What this means more or less is that you paint "piecemeal", laying on "patches" of colour in the right place with the final colour, lightness and saturation. That way you don't have to go over the top of what you have already done. This windmill at Valmy, Argonne, France, is an example -I did this way in about an hour:
2. Paint your first dark layer of shadow colours thin - i.e. with turps mixed in. This won't work with light colours like yellow because they will just look transparent. A thin coat dries quicker and you can then soon overlay with thicker paint. The artist Ken Howard does this all the time, brilliantly well.
3. Mix in some (say 25%) tube Alykd white with your standard titanium white (white is annoyingly slow to dry). Not only will the white dry a lot quicker, but so will everything else that you add white to - which means nearly everytyhing. This is my standard method.
4. Or you could dab in a bit of Liquin gel - the photo to the right shows the thinner "fine detail" version but you can get the thicker gel version just as readily. The magic ingredient is the word "alkyd." This is what makes the picture dry quickly.